[/column]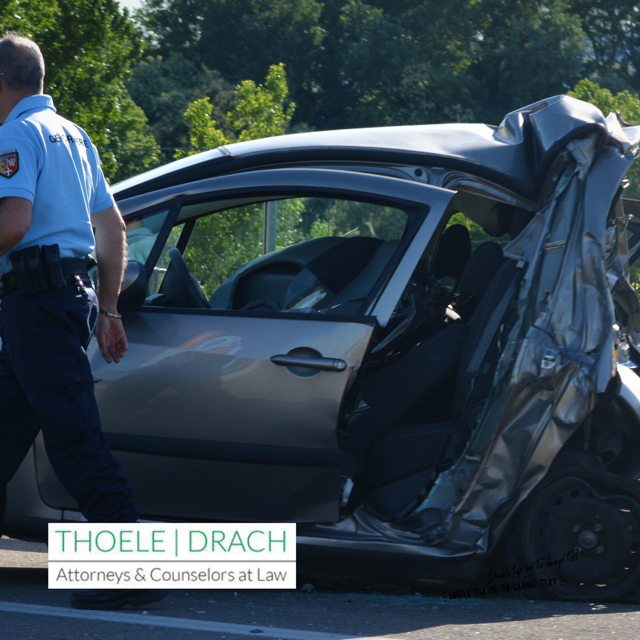 After you have been in a car crash, you may be shaken up or in shock. This may be in the case even if the crash seems relatively minor. Following are 9 steps you can take to protect yourself and your interests after a car crash.
Stop your car safely. You should never, ever leave the scene of a crash. When stopping, make sure you are stopped in a safe area, and look carefully at traffic and the other vehicles involved in the crash before you exit your vehicle.
Take pictures. Once you are safely stopped, you should take pictures of the crash scene. Make sure you have pictures of all vehicles involved in order to preserve the record of what happened at the time of the crash. Your memory and the memories of any witnesses may erode over time, so it is important to have photographic evidence of the crash. If you can, take pictures of the vehicles as they were at the time of the crash, before moving them off the roadway. Additionally, make sure to take photographs of any visible injuries you may have.
Talk to witnesses. If there are any witnesses, get their name and contact information. Those witnesses may be very important later.
Call the police. You should always call the police, even if you don't think there are any serious injuries involved. It is best to have a crash report. The police will also collect contact information from each person involved in the crash, including insurance information. Be truthful when speaking to the police. Tell the officers exactly what happened to the best of your knowledge. If you do not know the answer to a specific question, it is ok to tell the officer you don't know. Do not speculate or embellish the facts. Make sure that you do not admit any fault for the crash. If you are asked if you are injured and you are unsure, you should say that you are unsure. Often, injuries and pain caused by a car crash will not show up until hours later.
Exchange information. You should always exchange names, contact information, and insurance information with everyone involved in a crash. Typically, the police will gather this information, but if, for some reason, the police do not respond, you should do so yourself. Make sure you have information for each driver and passenger involved.
Seek medical attention. As mentioned above, injuries from car crashes are not always immediately apparent. The pain my not show up until a day or two after the crash. Unless you are sure you are not injured, it is best to seek immediate medical attention at your local emergency room, an urgent care clinic, or your primary care physician. You can sustain serious injuries, even from a minor impact. It is also important to be seen quickly so that you have access to your PIP (or personal injury protection) benefits. Your car insurance will pay for a certain portion of your medical expenses, but in order to claim these benefits you must be seen within 14 days of your crash.
Report the crash to your insurance company. You will want to report the crash to your insurance as soon as possible following the crash, but it is best to wait until after you have retained an attorney to assist you with your case. If you do contact your insurance company to report your crash before you have retained an attorney, do not give any recorded statements to the insurance company until you have retained a personal injury attorney.
Do not take any money from anyone. You may be contacted by the at-fault party's insurance company following the crash. The insurance company may offer you some money at this time for your injuries. If this happens, do not take the money, and do not give any type of statement to the insurance company. If you have already retained a personal injury attorney, give the insurance company your attorney's information and ask them not to contact you directly again. If you have not yet retained a personal injury attorney, tell the insurance company that you do not wish to speak to them until you have hired an attorney. In no case should you accept money from the insurance company before talking with your personal injury attorney.
Retain an attorney. It is important to retain an experienced personal injury attorney, such as those at Thoele | Drach as soon as possible after your crash to protect your interests. We will be able to help you speak to your insurance company and any other parties involved in your case with your best interests in mind. While you are focusing on treating your injuries and healing, we can focus on ensuring that your rights are protected. Most personal injury attorneys, including Thoele | Drach offer a free consultation and work on a contingency basis, meaning there is no legal fee unless we recover compensation for your injuries.