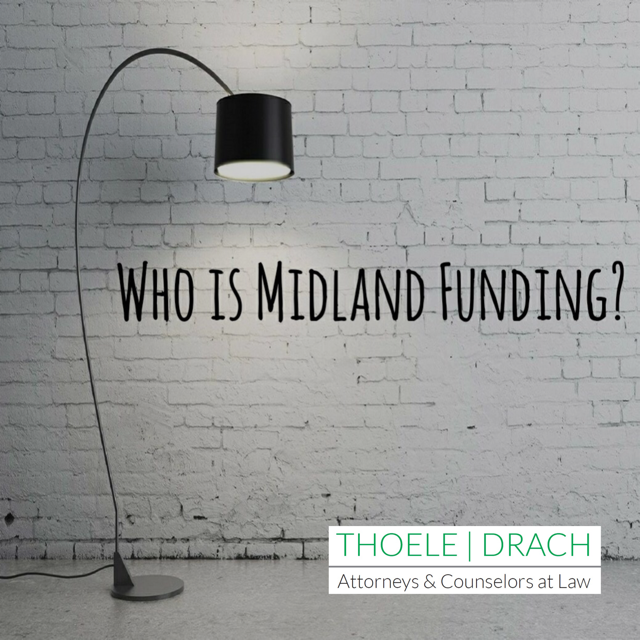 Midland Funding, LLC is a company that buys accounts in default (also known as bad debt). A consumer credit account typically goes into default and is charged off once it has been 180 days since a payment has been made. These accounts are typically consumer credit accounts such as credit cards and store cards. Midland purchases these accounts in groups and often only pays pennies on the dollar to get them. Midland Funding is what is called a 3rd party debt collector. This means that they never originally owned any of the accounts that they try to collect on and instead Midland relies solely on the portfolios of debt they purchase to turn a profit. Midland Funding files thousands of collection lawsuits each year against consumers.
Midland Funding typically uses a sister company called Midland Credit Management to begin collecting on the accounts purchased by Midland Funding. Both of these companies share the same parent company, Encore Capital Group. Midland Funding is one of the nation's biggest buyers of unpaid debt.
Why is Midland Funding Suing Me?
They are suing because they claim that one of the many accounts they have purchased belongs to you and you therefore owe them now, not the original creditor. They are trying to get you to pay them the alleged amount or have a court enter a judgment against you for the alleged amount. When you boil it down, Midland is using the court system as a tool to ensure their return on investment for the account they claim is linked to you. They typically will also send letters offering to "settle" the alleged debt for 70-80% which is likely far more than what they paid for it. If you have been recently served with a Midland Funding, LLC lawsuit then you should take action to protect yourself.
How can I fight a Midland Funding Lawsuit?
Thoele | Drach can help you fight back against Midland Funding. Settling a case helps you avoid a judgment for the amount Midland is seeking and the costs involved in the filing of the lawsuit. If Midland obtains a judgment against you, they may be able to garnish your wages, bank accounts, and put liens on your property. Most of our settlement agreements do not involve our clients paying Midland Funding any money. Thoele | Drach has also taken Midland Funding cases to trial to make them prove that they own the debt, and when they can't, we win.
If you are being sued by Midland Funding or another third-party debt collector, you should consult an experienced debt defense attorney, like those at Thoele | Drach, to discuss your options and rights.